"Benetton in Teheran"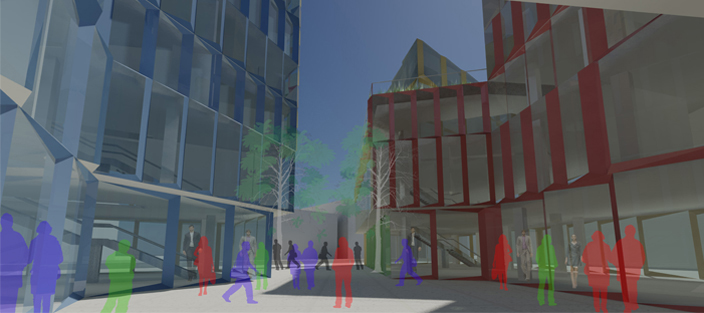 Benetton in Teheran: An environmentally responsible design with a sensitivity to the social fabric of a growing city.

The planning scheme grows out of the social, physical, and symbolic center of the building, the public courtyard.  The courtyard internalizes the dynamism of the city and embraced by the building becomes an intimate discrete public space of transition.  A space which bridges between privacy and publicness allowing for discovery, ambiguity, and revealing itself gradually from the street into the heart of the building.

Teheran is a growing multi-cultural and socially diverse city undergoing rapid densification. Building A is located along Vali Asr Boulevard, not far from the central Tajrish Square, a popular  business and shopping district.  Benetton and the new building is an integral part of the revitalization.

The massing and programmatic arrangement is carefully choreographed with the gradual transition from the busy Boulevard to the intimacy of the working and living spaces above.  First the building mass, shaped by the city's grid, is "excavated" to create a courtyard.  Secondly, the building envelope changes from the transparency of the lower commercial levels to the more opaque private apartments.  Lastly, the monochromatic exterior city façades slowly fades into the vibrant colorfulness of the bright sunlit courtyard.

Responsible contemporary architecture must be equally sensitive to both social as well as environmental issues.  Minimizing the environmental impact has been a priority in the design of Building A.  The courtyard creates a microclimate mitigating the cold winters and hot summers and allowing the light and air to deeply penetrate into the building. The envelope is articulated to control the levels of heat gain through the use of layered solar control devices: exterior canopies, insulated glass, and interior shade control. 

Responding to the social and environment influences, the building constantly plays with the tension between the public and private, solid and void, transparent and opaque, soft and hard, cold and hot, light and dark, fabric and stone.  The search for the ultimate balance encompassing these tensions is the challenge: a building in the city, Benetton in Teheran.

Credits: i. mazzoleni, c. souki, c. burdick, z. nigohos.